Our mission sets out our purpose and commitment, while our values guide our approach to doing business. These values are not new they are how we've always done business. We will stay true to our values as we grow and develop and continue to provide you with outstanding service.
---
Our Mission
We will become the leading police credit union in the UK, providing education and financial services to members that are excellent value for money and are supported by a member centric service.
The Credit Union aims to use its COPS strategy to achieve its mission. This includes collaborating with stakeholders, finding opportunities to educate its members, offering products which aid members' personal financial stability and all with a focus on sustainability to ensure No1 CopperPot is around for many more generations.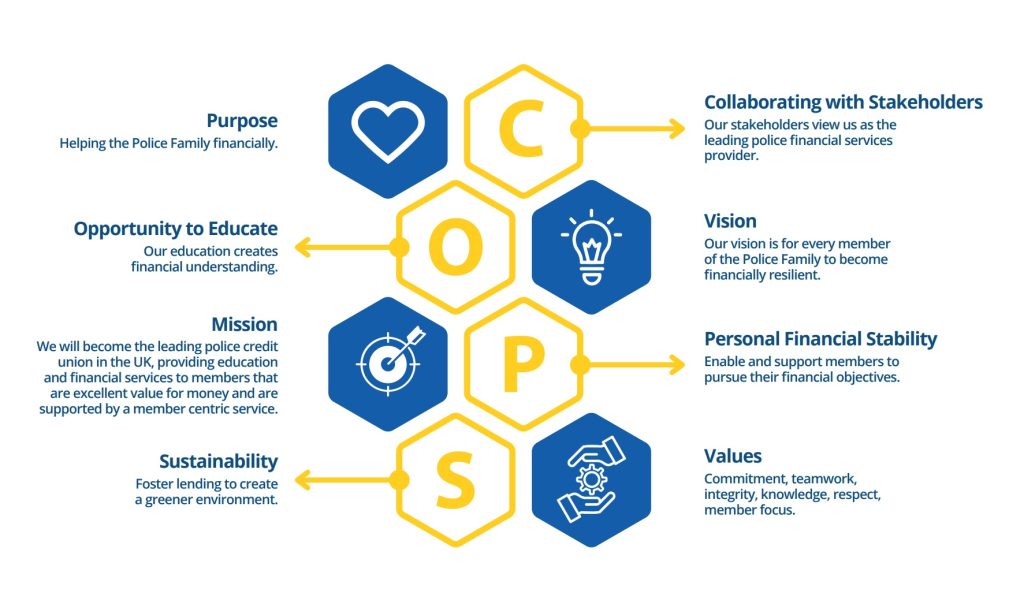 ---
Our Values
We created a Statement of Values and Commitments to guide our activities today and in the future. This is how we have always conducted our business. We want to focus on ensuring we stay true to our values even as we grow and change.
Our Statement of Values and Commitments is not a top-down decree from management, rather it is the result of a highly consultative process involving all members of our staff.
Our core values are about:
Integrity – we act in a fair, ethical, open and honest manner.
Commitment – we believe in what we do.
Respect – we appreciate our members, our staff and the Directors.
Knowledge – we invest in our staff and Directors to ensure they have the right skills to run the Credit Union.
Member focus – our members always come first.
Teamwork – we believe in working together to provide the best services for our members.