---
Managing debt and consolidation
We're here to help you manage your finances and consolidating your debts may help to improve your current situation. Debt consolidation is the process of combining your existing debts into a single loan. This can be done by applying for a new loan and using the funds to repay and close other financial accounts (e.g. credit cards, credit agreements, loans etc). The process of consolidating debt and having it all in one place means that you are charged one interest rate, have one repayment term and hopefully have more disposable income each month.


---
Is consolidating my debt right for me?
As we don't offer financial advice, we are unable to advise you if debt consolidation is the right thing for you. We can however, explain the process and how it may or may not benefit you. If you feel you could benefit from financial advice, you can get independent and free advice to help you with money worries from many organisations, such as StepChange or Citizens advice. Debt consolidation could help members who are juggling numerous repayments and would find it easier to manage a single repayment.
Another benefit is that by consolidating debt, it could reduce the rate of interest you are currently being charged. However, you should be aware that it may also increase the amount of interest you pay if your consolidation loan is on a higher rate than your average APR or if you extend the term over a longer period. In these cases your monthly repayment could still be cheaper than repaying your existing debts separately but you need to check that you are happy with the total amount of interest you will be paying.
With our loans, everyone gets charged the advertised interest rate regardless of credit score, so you'll be able to find out exactly what your repayments would be if accepted. You can do this by using our loan calculator before you apply. This can help to assist you when trying to work out if it would be a cheaper alternative.
---
Using the debt calculator
We have developed a debt calculator which allows you to list your current debts. It will then give you an idea of the current average APR which you are paying, for comparison. 

It's also important to remember that APR isn't the only factor that affects your repayment amount. The term of the existing loan will change the monthly repayments, and with debts such as credit cards, we often find members are repaying the minimum monthly payment. If you are paying the minimum payment you are often repaying this mostly to cover the interest and not much of the capital you actually borrowed. At this rate, the debt could take years to pay off and so over the duration of the repayments, it could cost you a lot of money in interest.
We never charge representative APR, meaning the rate you get will never change based on your credit score. This means that you can see exactly what your monthly repayments would be before you apply for a loan with us. When consolidating debt for the purpose of increasing your monthly disposable income, it may be worth comparing your total current repayments to our loan calculator to see if it could reduce your repayments each month.
---
Consolidation example
This example is a member of the Credit Union that came to us looking for help managing their debt. You can see the total debt was £11,637, and we're unable to change this, however we did help the member to manage their debt in a smarter way, creating £158 more disposable income each month.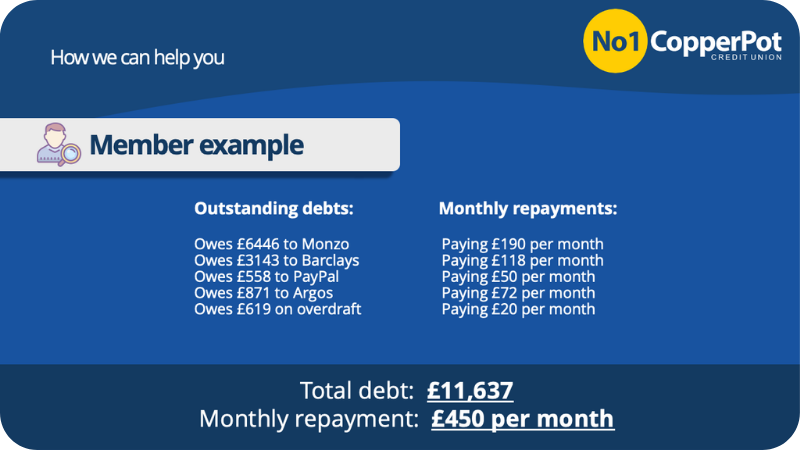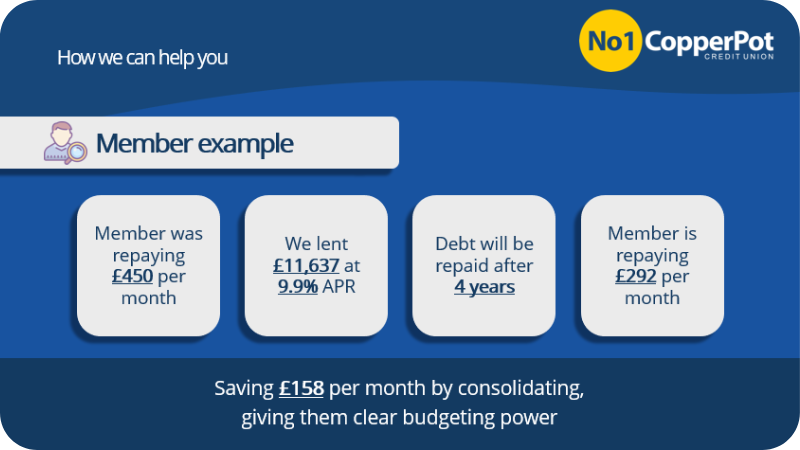 Care should be taken when consolidating debt.
It may increase your total amount payable, or the period, over which it is to be paid.
---
Follow us on social media for regular news, updates and competitions!