YOUR HOME MAY BE REPOSSESSED IF YOU DO NOT KEEP UP REPAYMENTS ON YOUR MORTGAGE.
Our mortgage products can change or be withdrawn at any time and are subject to underwriting.
The Family Assist Mortgage is designed to help members get on the property ladder with the help of their family member. This mortgage allows a relative to help a family member by guaranteeing their mortgage deposit and it is available with a minimum deposit of 5% (provided by a family member). The deposit funds are placed into the Credit Union to cover the guaranteed liability until the mortgage balance outstanding falls below 95% of the valuation of the property.
---
Eligibility
You must be aged 18 or over, a UK resident and purchasing within the UK

Mortgage applicant(s) and person providing the deposit must be members of the Credit Union

Applicant(s) must be looking for a residential mortgage (we do not offer Buy to Let)

Applicant(s) must currently be employed and have been for at least one year, or currently self employed and have been for at least two years
---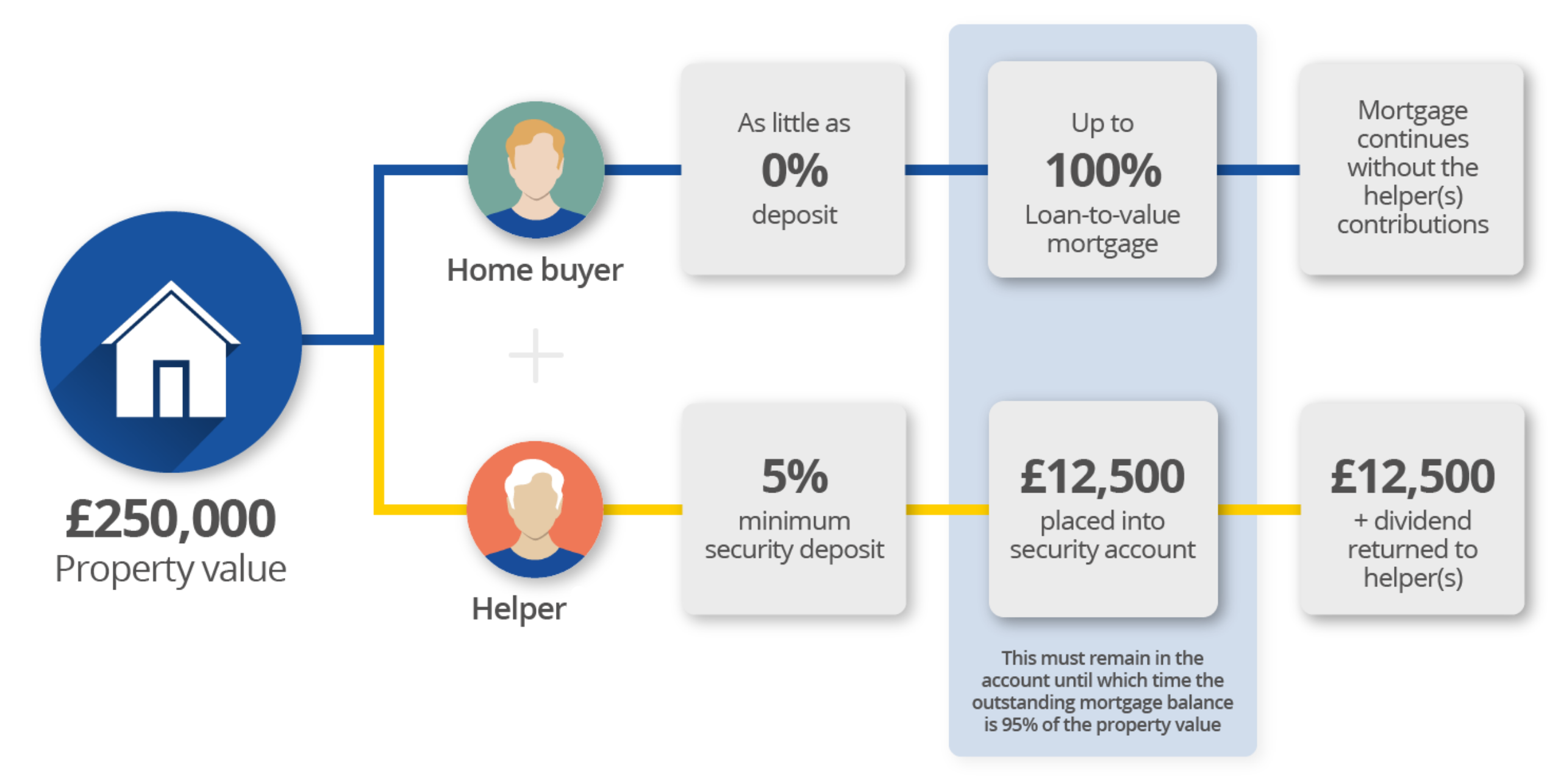 Please click here to read our pre-contractual information for this product.
---
Want to know more? Which are you… 
---
Product

Three Year Fixed Rate

Initial interest rate

5.50%

Followed by Standard Variable Rate (SVR)

4.5%

The overall rate for comparison is

4.9% APRC*

Arrangement fee

None

Early Repayment Charge**

3%

The initial interest rate will be fixed for three years from the advance of the loan.
*APRC stands for the Annual Percentage Rate of Charge. It is an annual interest rate which takes into account of fees and charges to reflect the total cost of your mortgage. The APRC allows you to easily compare quotes from different lenders.
**ERC of 3% of the outstanding loan amount is payable at the time of redemption during the fixed rate period. 
---
Mortgage repayment example
The following example is based on a £200,000 mortgage to be repaid over a 30 year term. The initial fixed rate would be 5.5% for 3 years, then moving onto our Standard Variable Rate, currently at 4.5%, for the remaining 27 years. It would require 36 monthly payments of £1,135.58, followed by 324 payments of £1,021.83. The total amount payable would be £371,953.80, made up of the loan amount £200,000 plus interest £171,953.80. The overall cost for comparison is 4.9% APRC representative (the actual APRC will be illustrated on your personalised European Standardised Information Sheet).
---
| | |
| --- | --- |
| Mortgage amount | £25,000 up to a maximum of £300,000 |
| Maximum mortgage term | 35 years |
| Loan to Value (maximum) | Up to 100% |
| Over-payment charge | None (Up to 10%)* |
| Repaying your mortgage | You can repay through payroll deduction or Direct Debit. Applicants must be no more than 75 years of age at the end of the mortgage term. |
*You can make over-payments on this mortgage throughout its term. Over-payments made within the first 3 years cannot exceed 10% of the original mortgage balance per annum from the date of completion. These over-payments would not be subject to the Early Repayment Charge.
You should think about the impact having a low or no deposit might have. It can mean that there is a higher risk of negative equity. You are in negative equity if you owe more on your mortgage than what your house is worth.
---
Information for potential applicant(s)
This product allows your family member(s) to help with your mortgage deposit without gifting the funds. This mortgage is available with as little as a 5% cash deposit provided by your family member, but you are able to put funds towards this deposit too. Your family member would be required to pledge the funds to the Credit Union in order to cover the guaranteed liability.
Your family member can get their funds back when the equal sum has been repaid during the mortgage term, however they may get their funds back sooner. This is subject to a valuation being completed, as property prices can rise or fall over time.
---
If you're planning to support your child, grandchild or another family member in purchasing their home, then our Family Assist Mortgage could help. This mortgage is available from as little as a 5% cash deposit from yourself which would be pledged into the Credit Union in order to cover the guaranteed liability. The funds remain yours and you will earn an annual dividend on the funds pledged for this deposit.
Please be aware: If the borrower fails to make repayments on the mortgage we can call upon the guaranteed deposit, which becomes payable on demand. If we needed to repossess the property, you could lose some or all of the money if there is a shortfall between what we're owed and the amount we sell the property for.