YOUR HOME MAY BE REPOSSESSED IF YOU DO NOT KEEP UP REPAYMENTS ON YOUR MORTGAGE.
Our mortgage products can change or be withdrawn at any time and are subject to underwriting.
We are the only Police credit union in England and Wales that helps their members buy their own homes – something that we are very proud of! 
We're always looking for new ways to help our members and we're pleased to introduce our latest mortgage offering, the Family Assist Mortgage. This product is designed to help members who are either aiming to secure a mortgage with a little help from their family, or members who wish to help their family to buy their own home.
Here's an example of how it works: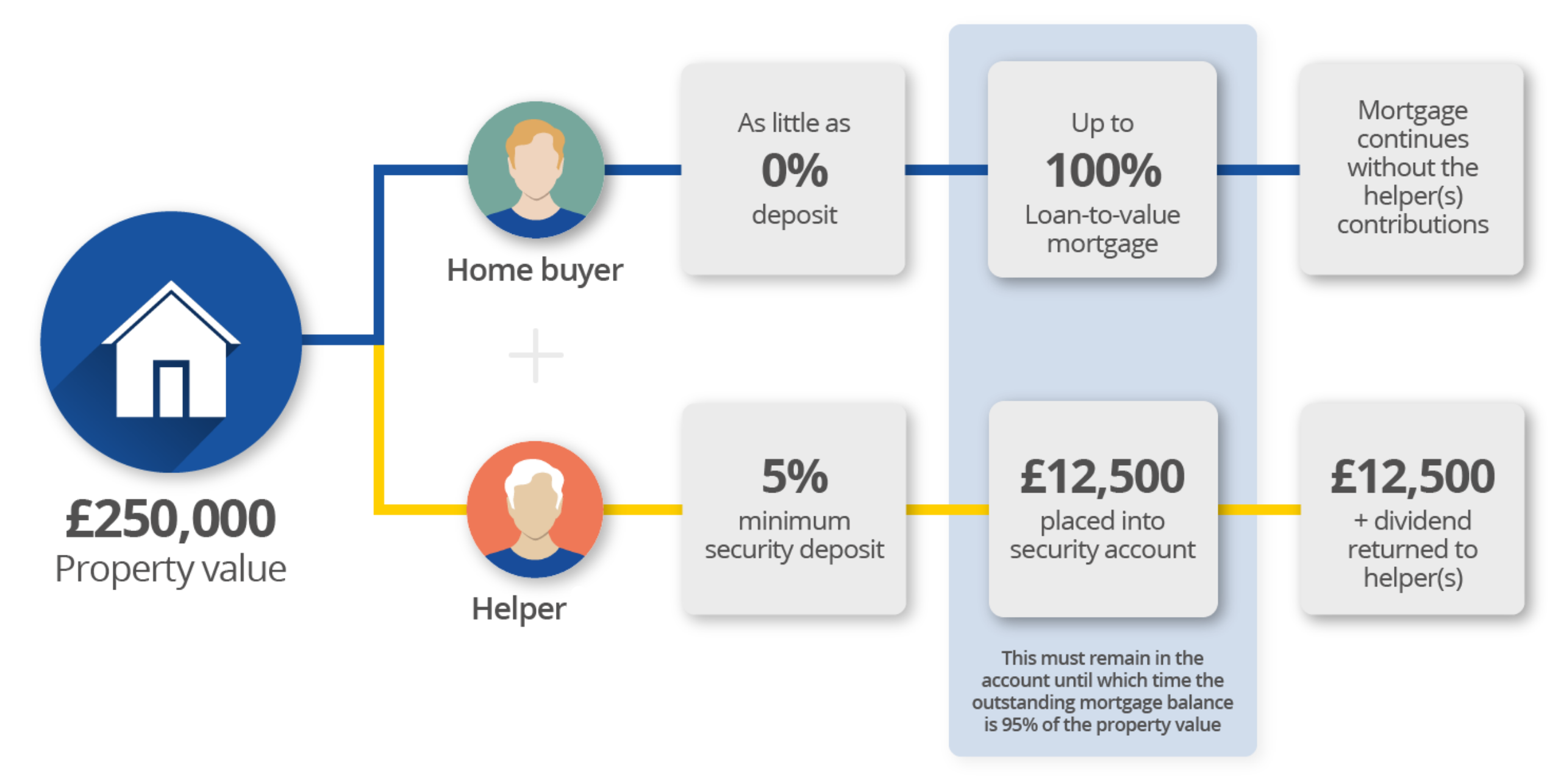 Please click here to read our pre-contractual information for this product.
---
For more information about our Family Assist Mortgages, click either of the buttons below. Alternatively you can arrange a call back from one of our in-house Mortgage Advisers, or you can send the team an email and they will get back to you as soon as possible. 
---
Current rate
Product

Three Year Fixed Rate

Initial interest rate

5.50%

Followed by Standard Variable Rate (SVR)

4.5%

The overall rate for comparison is

4.9% APRC*

Arrangement fee

None

Early Repayment Charge**

3%

The initial interest rate will be fixed for three years from the advance of the loan.
*APRC stands for the Annual Percentage Rate of Charge. It is an annual interest rate which takes account of fees and charges to reflect the total cost of your mortgage. The APRC allows you to easily compare quotes from different lenders.
**ERC of 3% of the outstanding loan amount is payable at the time of redemption during the fixed rate period. 
---
Key information 
| | |
| --- | --- |
| Mortgage amount | £25,000 up to a maximum of £300,000 |
| Maximum mortgage term | 35 years |
| Loan to Value (maximum) | Up to 100% |
| Over-payment charge | None (Up to 10%)* |
| Repaying your mortgage | You can repay through payroll deduction or Direct Debit |
*You can make over-payments on this mortgage throughout its term. Over-payments made within the first 3 years cannot exceed 10% of the original mortgage balance per annum from the date of completion. These over-payments would not be subject to the Early Repayment Charge.
Applicants must be no more than 75 years of age at the end of the mortgage term.