Help us help you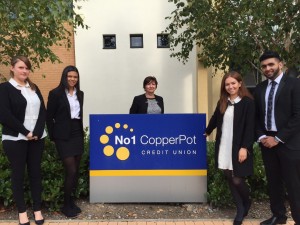 No1 CopperPot Credit Union's Development Team need you!
Your credit union's ongoing success is based on our ethos of "People Helping People." The team are out and about spreading this positive message of credit unions at events and Member Services days nationwide.
Did you know that we also offer tailored presentations for New Recruits, Specials, Pre Retirement, and Police Staff Training Days? Contact us if you would like us to attend one of your events or training sessions.
As you know, when you save and borrow with us, you and your colleagues benefit. We use our profits to improve our services and reward our members in the form of a dividend every year. It was because of you that we were able to pay a dividend of 1.8% gross on our members' savings last December!
Your continued support is helping to grow your credit union and we would like to take this opportunity to say thank you.