No1 CopperPot's Travel Guide


After the last 12 months, we think everyone deserves a holiday! Some of you may feel comfortable travelling abroad, but for some that might be too much too soon, and that's ok! The UK has plenty of beautiful holiday locations for you to visit and enjoy.
We have complied a list of some must-see UK locations, holiday ideas and websites to help you book the holiday you deserve.
Looking to book UK accommodation?
Fancy taking on the elements?
Looking for something for the whole family?

Air BnB

There are Air BnB's hidden all over the UK at a range of prices, it might be just what you're looking for.

Camping

This site will provide you with some great campsites, if you fancy braving the UK weather!

Centre Parcs

Centre Parcs is full of activities and scenic walks to do, with family or friends.

Cottages

Are you looking for a relaxing weekend get away in a cottage with friends or family?

Luxury Glamping

Not a fan of camping? Take a look at luxury glamping, you wont need a tent here!                            

Haven

Haven can be a fun, cheap option to get away. Some of their sites are near the sea too!
Our top 5 UK holiday destinations
The Lake District

Located in the North West, the Lake District is a great place to visit for those who like to explore. Home to England's largest national park and historic market towns, such as Keswick and Ambleside. Whether you enjoy a scenic walk, a boat trip or a stroll around a museum, the Lake District is a very popular holiday choice!

Cornwall

Cornwall is a great holiday destination for those craving some warm weather, boasting the sunniest climate in the UK. Located on the South West coast and well known for its picturesque beaches. Cornwall is the ideal place to visit if a relaxing beach holiday is what you have in mind. Cornwall is also famous for its iconic foods, including cream tea, Cornish ice cream and of course, the Cornish pasty.

The Isle of Skye

Situated off the West coast of Scotland, the Isle of Skye is renowned for its picturesque views and breath-taking landscapes. The island has an extremely rich history, from dinosaur fossils to highland welfare, and also plays host to an abundance of wildlife, such as otters, seals, deer and even dolphins!

Snowdonia National Park

A region in North West Wales well known as the home of Mount Snowdon, the highest peak in the UK outside of Scotland. A real land of contrast, you can be on top of the world at the peak of Mount Snowdon in the morning, and be relaxing on the golden sands of the many beaches in the National Park during the afternoon. There really is something for everyone.

The Peak District

Situated in central England, the Peak District is well-known for its breath-taking views, walking and cycling routes, and an abundance of country pubs. Whether you fancy a relaxing trip, enjoy a scenic stroll, or a pub dinner after a full day of hiking, the Peak District has something for you.
Have you heard of our Holiday Loan?
Whether you're planning a relaxing break in the sun, an adventure abroad in the snow or a staycation in the UK, we may be able to help you fund your getaway with our Holiday Loan.
This loan is a popular choice with members because it has a ten month maximum term. This means that you can spread the cost of your holiday, without getting into long term debt.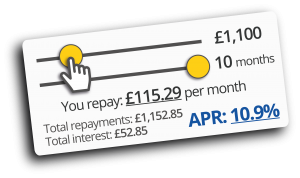 We have payroll deduction with 28 police forces, allowing you to repay your loan straight from your pay each month. So while you're enjoying your holiday, your loan is being repaid effortlessly, giving you one less thing to worry about!
The rate you see on all our loans is the rate you would get, regardless of your credit score. Our Holiday Loan APR is fixed at 10.9% and with our loan calculator you can easily see what your repayments would be before you apply.
With the average credit card APR around 22.5%, financing your holiday through us, rather than through a credit card, may be a cheaper option.

All our loans are subject to affordability and our lending criteria.