The Help to Buy scheme was introduced to help people who want to get on the property ladder but found it difficult to save a sufficient deposit. We have qualified Mortgage Advisers to help you through the process of buying your own home and to help you find the right mortgage for you. We are currently only offering the scheme for homes in England.
YOUR HOME MAY BE REPOSSESSED IF YOU DO NOT KEEP UP REPAYMENTS ON YOUR MORTGAGE.
---
What is the Help to Buy: Equity Loan scheme?
The Help to Buy: Equity Loan scheme was created by the Government to help first time buyers with obtaining their mortgage deposit. Through this scheme, the Government will lend you up to 20% (or up to 40% in Greater London) of the cost of selected new-build homes. An additional minimum deposit, of at least 5% of the property value, must be funded by the buyer. The rest then needs to be funded through a mortgage with a lender. The buyer would end up with a mortgage through a lender, and a separate loan repayable to the Government. 
You are not required to make repayments to the Equity Loan within the first five years of owning your home. You can however choose to make voluntary part repayments of the Help to Buy: Equity Loan at a minimum of 10% of the market value of your property at the time of repayment.
For information on the old scheme, please click here.
---
How does it work?
The following table and diagram provide an example of how this scheme is broken down. It explains how much you would need to save for a deposit, how much you could potentially borrow on the equity loan and the value of the mortgage you would need to apply for.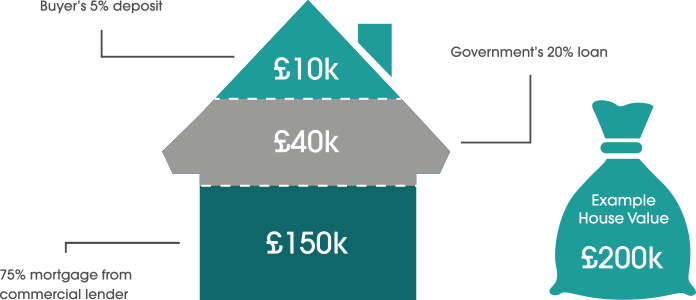 More information on the Help to Buy: Equity Loan scheme can be found on the following links:
---
Am I eligible? 
To buy a home on the Help to Buy: Equity Loan scheme you must:
Be a first time buyer

Be aged 18 or over

Have at least a 5% deposit saved for the property you wish to buy

Be looking to buy a newly built property

Be looking to buy a property not exceeding the maximum purchase price in that area. Please see price caps below.

Not be planning to sub-let or rent out the property after you buy it

Not have had any form of sharia mortgage finance
To be eligible to buy a home on the Help to Buy: Equity Loan scheme with No1 CopperPot you must be a member of the Credit Union. Not yet a member? You can join here!
---
Regional price caps
Examples are based on the maximum purchase price set by the Government.
---
Using the Help to Buy scheme with No1 CopperPot
If you're interested in applying for a Help to Buy scheme with No1 CopperPot, we encourage you to look at our current mortgage products to see which may suit your current situation.
---
What you need to know
If you wish to progress with this scheme you will be required to go to your local Help to Buy Agent. You will then need to approach us, or your chosen lender, separately to discuss your potential mortgage needs.
All mortgages are individually assessed by one of our Mortgage Advisers based on your ability to repay. Once your mortgage has been approved we will need a valuation of the property to be carried out by a surveyor of our choice. You must remember to take the cost of the valuation into account as it will be required at the start of the process. Please be aware this is non-refundable in the event of your mortgage not completing. For more information about surveys, please click here.
A solicitor of your choice will have to be appointed to deal with the legal process and the cost will vary depending on your chosen solicitor and the individual property.
We also have our full Tariff of Charges available on our website.
---
How to apply
You can request a call back by clicking on the button below, this allows you to choose a suitable time and date for us to call you. When we get in contact we will arrange a mortgage telephone interview with one of our qualified Mortgage Advisers who will assess your circumstances in order to advise and make a suitable recommendation.
Alternatively, you can contact us at any time during our office hours on 0161 741 3160.