Let's talk about buy now pay later
You'll have probably seen the words "buy now pay later", often referred to as BNPL, on most online checkout pages. It's a fast-growing method of payment, used by around 19.4 million Brits, but did you know BNPL is currently unregulated by the Financial Conduct Authority (FCA)?
In February 2021, the FCA published the Woolard Review which stated that BNPL products should be regulated, but these rules aren't to be brought in until late 2022 at the earliest. With this method of payment offering a better alternative to payday lenders and other forms of high-interest credit, is it as easy and harmless as it seems?
Klarna, the most popular company that provides BNPL, was founded in Sweden in 2005 but didn't see its popularity soar in the UK until its London office opened in 2014. In mid-2020 they had 460,000 active users. Klarna reports that retailers see a 68% increase in basket size when using the service, and customers spend between 10-20% more than credit card customers.
---
How does it work?
Most commonly used at online retailers' checkout pages, Klarna customers have the option to pay for their order in three installments or pay in 30 days. They advertise that their services don't affect your credit score and that they do not perform a hard search when you use their BNPL services.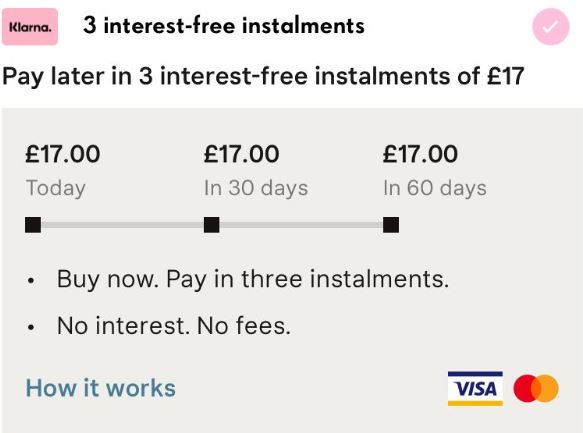 This almost seems too good to be true, but for most customers, this form of payment can work well. For example, customers shopping for clothes online can order several styles/sizes of outfits and use the Klarna feature at the checkout to either split their payments over 3 months or pay later in 30 days. This can be beneficial if the customer knows they will be returning some of the items and will not need to pay the full amount as they will be returning most of their order. 
---
Is it as simple as it seems?
Issues can arise when customers miss their repayments. The Daily Record reports that one in ten BNPL customers have been chased by debt collectors.
Klarna specifically states that if a customer does not pay for their order by the due date they will no longer be able to access Klarna's services, and if your repayment is frequently missed, they will use debt collection agencies to recover the balance. Klarna also offers financing options and if you miss payments on this agreement, the balance will show as a missed payment on your credit file which may have a detrimental effect on your credit file and prove difficult to obtain future credit.
---
There is no denying that for some customers, the BNPL method of payment can be advantageous and enhance their shopping experience, but for those who may not be aware of their finances or informed of the negative impact missing payments could have on their credit file, more should be done to make them aware of the implications. This is where regulation of BNPL will be beneficial and protect customers when shopping.
The introduction of the FCA regulation will also see adverts, like this one, more heavily regulated, and not encouraging potential customers who may have little spare cash to get into debt with th

eir service.